During one's life many choices have to be taken. It is a fact that the older we get the harder the choices. When someone needs to relocate for study or working reasons, a lot of brainstorming and preparations are involved. Most importantly, one must be sure of making the right decision.
Undoubtedly the Netherlands is the right choice for such a big step. Holland is situated in the heart of Europe. The Netherlands is easily reached by any means of transport and it is in the center of the three major economical countries in Europe; Great Britain, Germany and France.
The majority of the people speak English and most of the households receive international channels. The Dutch transport system is up to standard and normally punctual. Moving around the country is safe and easy.
Studying in the Netherlands is one big experience on a multicultural level. Dutch Universities encourage teamwork which helps students to mix easier with other international students. Most of the courses are offered in English and it's a fact that the Dutch higher education excels in areas such as medicine, business, administration, engineering and agriculture.
Compared to other developed countries, especially the UK and US, Dutch tuition fees are relatively low. A higher Educational program would start at approximately €1,500 for EU students and a little bit more expensive for non-EU. The cost of living in major cities like Amsterdam, Utrecht and Rotterdam are modest making it affordable and an ideal study destination.
If you intend to follow a study in the Netherlands, it's good to know that you are entitled to carry on work of 'incidental nature' for a maximum of ten hours. The months of June, July and August (seasonal work) are exempted from this rule and there is no limit for the number of hours worked. Internships may not exceed 50% of the total study time.
EU, EEA and Swiss nationals have to be registered with IND (Immigration and Naturalisation Services) to be employed under the same conditions as Dutch students. Unless you are an EU (excluding Romania and Bulgaria), EEA or Swiss national, you need a work permit for 'incidental' work.
International Higher Education
European University
Europe Business Academy
Haagse Hogeschool
HES Amsterdam School of Business
ISS Institute of Social Studies
InHolland University 
Maastricht School of Management
Nimbas Graduate School of Management
Nyenrode University
Rotterdam Business School
Saxion Hogescholen 
Wageningen University & Research Center
University of Phoenix
Rotterdam School of Management
Webster University
TSM Business School
Main Universities in Holland
1.University of Groningen
2.University of Twente
3.University of Amsterdam
4.University of Leiden
5.University of Nyenrode
6.University of Utrecht
7.University of Wageningen
8.University of Rotterdam
9.University of Delft
10.University of Nijmegen
11.University of Tilburg
12.University of Eindhoven
13.University of Heerlen
14.University of Maastricht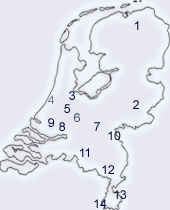 (Visited 998 time, 1 visit today)