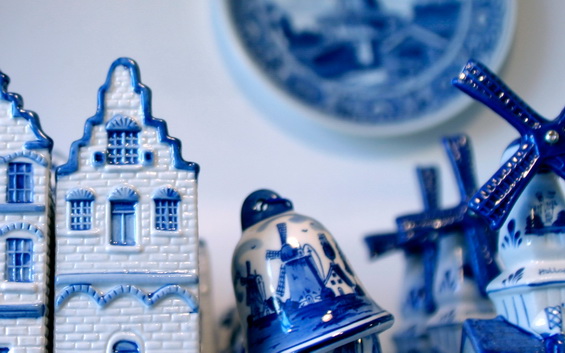 Delft is a lovely city full of culture and history. It is located in the western part of the Netherlands between Rotterdam and The Hague. Delft is crisscrossed with canals and narrow winding alleyways and offers a variety of museums such as the Army Museum, the Tools museum and the 'Prinsehof' museum, where William I, prince of Orange was assassinated in 1584. Other main attractions include the main market place and the Old and New churches. The latter is the burial place of the Royal Family. the church is also known for it's tall Gothic tower and wonderful set of chimes. Delft is the birthplace of the 17th century famous Dutch painter Jan Vermeer (1632-1675).
Delft ceramics have been an important export product for more than 400 years. During the era of the Dutch East India Company, Delft potters came into contact with Chinese porcelain. Skilfully they tried to imitate this Chinese trade and in no time it was a success. Eventually Delft ceramics became famous all over the world.
Museums and History
Museum Het Prinsenhof – www.prinsenhof-delft.nl
Nieuwe Kerk – www.nieuwekerk-delft.nl
Old Church – www.oudekerk-delft.nl
Walloon Church – www.eglisewallonnedelft.nl
Army Museum – www.legermuseum.nl
Museum Nusantara – www.nusantara-delft.nl 
Lambert van Meerten – www.lambertvanmeerten-delft.nl
Technology Museum – www.museum.tudelft.nl
Delft Historic Tobacco Museum – www.tabaksmuseum.nl
Delft Pottery – www.delftsepauw.com
The Royal Delftware Factory – www.royaldelft.com
De Candelaer – www.candelaer.nl
The Blue Tulip – www.bluetulip.nl
Theatres and Entertainment
Theatre & Concertbon – www.theaterconcertbon.nl
Micro Theater – www.deflits.nl
Filmhuis & Café Lumen – www.filmhuis-lumen.nl 
Bioscoop Apollo – www.merral-theaters.nl 
Mustsee Delft – www.mustsee.nl
Gardens & Parks
Botanical Garden – www.botanischetuin.tudelft.nl 
Arboretum-Heempark – www.arboretum-heempark-delft.nl
Serpo Reptile Park – www.serpo.nl
Tours
Happy Day Tours – www.happydaytours.nl
Delft Guided Tours – www.dp-c.nl
OverHollandTours – www.overhollandtours.nl
Markets
General market – Markt Square on Thursday.
Flower market – Along the canal Hippolytusbuurt on Thursday.
Fruit, vegetable & flower market – Brabanste Turfmarkt & Burgwal on Saturday.
Art & flea market – Heilige Geestkerkhof, Thursday or Saturday from April 12th till October 13th.
(Visited 746 time, 1 visit today)